Stop was a video sent to Matthias after the release of the first Slender Finders episode. Nothing is known about the sender.
[Screen black] "You don't need eyes to see"
[Fades to eye looking around]
[Unknown something moving around in front of the camera]
[Fades to black] "but others grow weary of the past"
"Can't connect? Sorry"
[Fades to corrupted unknown video file]
[Goes black suddenly with tiny words] "stop"
[Flashed the outline of an Unknown figure aka, ChⓍ1$3$]
Interpretation
Edit
The first line is an obvious reference to Slender Man, due to the fact that he watches all without eyes.
The second line could mean that Slender Man had nothing to do with the modern mythos, like TribeTwelve or MarbleHornets.
The final line could be a reference to the fact that the Matthias had connection problems with uploading on their channel.
One of Matthias' friends asked what he was going to do about the video BEFORE Matthias told him about the video. It could be a prank or that friend is a proxy.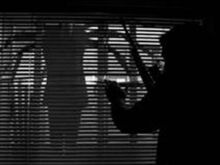 It is not a prank, it is himself.